Nicholas Kavakonis, M.A.A.T.O.
1923 - 1979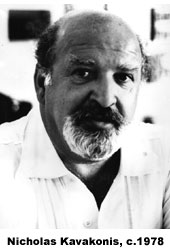 Nicholas Kavakonis came to Canada in the mid-fifties, having studied sculpture for three years at the Ecole de Beaux Art, Athens, Greece. He first settled in Quebec, where he had a small sculpture studio, and then moved to Toronto, where he worked as an Architectural Technologist for a number of reputable architecture firms, including Marani, Morris & Allan; Marani, Rounthwaite & Dick, Architects; and MacIntosh and Clarke, through the 1960's and 70's.

As a part of the 1960's renovation and refurbishing of St. Anne's Anglican
Church on Gladstone Ave., Toronto, spearheaded by Rector George Victor Young, Mr. Kavakonis received the commission for the four Nativity scenes comprising St. Anne's new 300-pound bronze doors. Donated by parish members Richard Winfield and his sister Mrs. Edward Osborne, and known as the Winfield Gates, the four Nativity scenes included Mary and Joseph on their way to Bethlehem, the Shepherds journeying to the manger, the Nativity, and the Adoration of the Magi.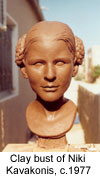 Founded in 1862, St. Anne's is equally renowned as an active parish and as an historic art and architecture site. Reputedly the only Anglican church built in the Byzantine Greek- Cross style, in 1923 members of the Group of Seven J.E.H. Macdonald, F.H. Varley and Frank Carmichael were commissioned to decorate the church's apse, pendentive and transept areas. The dome was decorated with the Symbols of the Four Evangelists by sculptors Frances Loring and Florence Wyle, as well as with paintings by F.H. Varley.
Other public commissions by Mr. Kavakonis include the plaque of Justice Weighing the Scales, above the south elevator to the Ontario Superior Court of Justice, beside New City Hall, Toronto.
Materials of choice included a green modelling plasticine, for sketches and
maquettes, and clay for final compositions.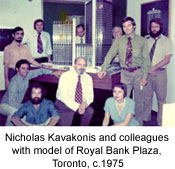 In the fall of 1964 Mr. Kavakonis met his wife Ulla Kavakonis and had a daughter, Niki Kavakonis. He continued working in the architectural field, including such contracts as the Royal Bank Plaza, Toronto, and the hotel Le Meridien in Abu Dhabi, UAE, 1976-1978, all the while maintaining a sculpture studio in his home.
Mr. Kavakonis planned to start an architectural firm with his colleague, architect George Malion, with his daughter being junior partner. Upon retirement he intended to pursue sculpture on a full-time basis.