"distinctive, by design"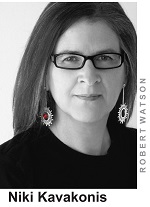 Exemplifying clean lines and a variety of themes, Niki Kavakonis' designs can be found on the most stylish of women, and men.
Born in Canada into a family where Art and Design were both appreciated and promoted, her Greek father, Nicholas Kavakonis (who also worked in the architectural field) was a practicing sculptor, best known for the bronze doors on St. Anne's Church, Gladstone Ave., Toronto. Her Finnish mother, an avid crocheter and knitter, ensured that the concept of good design, a trait Finland is famous for, was instilled in her daughter at an early age.
As a child, Niki traveled extensively, and by age ten she had visited over twenty countries, her parents taking her to every museum they could find. It was these early formative experiences which drove her to pursue a knowledge of Art and Architecture, both at the practical level (she possesses a diploma in the studio arts from Sheridan College of Art and Design), and academically, through doctoral studies in Art and Architectural History, at the University of Toronto.
It is in creating jewelry that Niki can best convey her passions. She is attracted to jewellery for its miniature sculptural qualities, and many of her designs can be appreciated as such. In her work she develops a number of varying themes, believing that what one wears is an expression of one's self.
Her forte is translating ideas into wearable, sculptural objects that have meaning.
One of her favourite themes is architecture.
Niki Kavakonis
dip., B.A., M.A., (PhD)
Designed and Made in Canada.

Activities:
'Out of this World! Jewelry in the Space Age', June 27 to January 7 2015, Carnegie Museum of Natural History, Pittsburgh, USA.
The Jewellery Editor, UK, 2014. (Scroll to the last image).
in 'Master of Jewellery Design in Canada, Vol. 2: Contemporary Designers', ebook, 2013.
'Out of this World! Jewelry in the Space Age', March 16 to September 17 2013, The Forbes Galleries, New York City.

Speaker, 'Art, Architecture, Science: From Uncut Canadian Diamond Crystals to Carbon Capture Crystals.' Jewelry of the Americas' Conference, Association for the Study of Jewelry and Related Arts. The University Club, New York City, October 7 2012.

Member, Responsible Jewellery Council, 2009-2012.

Exclusive Jewellery Collection, Art Gallery of Ontario, 2008-

'The Nature of Diamonds', 'Icons & Ice' Film Series, Feature Speaker, Gentlemen Prefer Blondes, ROM, Nov. 4 2008.
'The Nature of Diamonds', "Tip of the Iceberg ring" included in exhibition (Palladium version), ROM Toronto; Museum of Natural Science, Houston; Field Museum, Chicago, 2008-2010.
'Architecture as Ornament', Aug. 25 to Sept. 14 2008, Galleria Colmio, Oulu, Finland, www.colmio.com, with photographs by architect Raimo Ahonen.
Guest Speaker, Reena Ahluwalia's Design class, George Brown College, November 2007.

Misseto Bonsai Club, Annual Show 2007.

'Architecture as Ornament', Solo Exhibition, Zilberschmuck Art Jewellery, Toronto, June 2007.

Juror, Georgian College Jewelry and Metals Program, jury student work for awards, Spring 2007.

Interior Design Show 2007, Studio North.

Judge, "Quotation", Zilberschmuck Art Jewellery, Toronto, Spring 2006.

Curator, 'The Northern Lights Exhibition featuring Bjorn Weckstrom', editor, catalogue of the same name, 2005.
President, the Metal Arts Guild of Canada, editor, Magazine, 2002-2005.