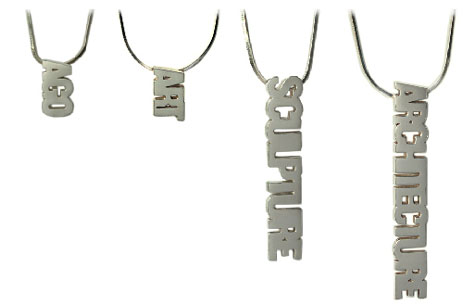 AGO, ART, SCULPTURE and ARCHITECTURE necklaces.
Art jewellery celebrating Frank O. Gehry's 2008 stunning redesign and reconstruction of the Art Gallery of Ontario.
AGO. The Art Gallery of Ontario. Houses and promotes all the Visual Arts.
ART. All encompassing. Traditionally signifies the three paradigms of art: painting, sculpture and architecture.
SCULPTURE. The art or practice of depicting form in-the-round or in relief.
ARCHITECTURE. The art and science of designing and constructing bulding forms for human shelter or use.
Sterling silver. Also available as pins/brooches.
Designed and made by Niki Kavakonis Designs, Toronto, Canada.