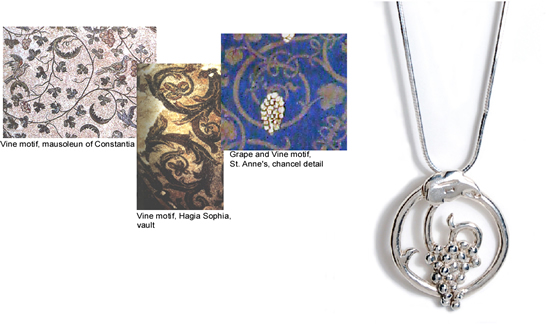 St. Anne's: Grape & Vine, enkolpion.

2007 marks the 100th Anniversary of the construction of St. Anne's Anglican Church, Toronto. Built in the Byzantine Greek-cross plan, and now a Canadian National Historic Site, it contains the only religious paintings by members of the Group of Seven.
Some of the paintings at St. Anne's can be found to have references to early Byzantine Christianity. The Grape and Vine motif, for example, which figures so dominantly above the chancel, is a motif with a historical reference.
It can be found in mosaic form decorating the mausoleum of Emperor Constantine's Christian daughter, Constantia. And while precious few of the original decorations survived the Islamic invasion, some remnants can still be found, including vine mosaics, in Hagia Sophie's vaults.
The Vine and Grape motif makes obvious reference to the Eucharist (Matthew 22:26ff). Symbolically, Christ also termed himslef the true vine"(John 15:1), his followers its fruitful branches and likened the kingdon of heaven to a vineyard.
A letter "H" has been inscribed into the veins of the leaf of the St. Anne's Grape & Vine enkolpion. In the acrophonic Greek Attic numeral system (the earliest system of Greek numerals, upon which the Roman numerals were developed), the "H" represents 100, thus St. Anne's Centenary Anniversary is subtlely integrated into the design of the enkolpion.
Sterling silver.
Available exclusively through St. Anne's Anglican Church. Profits from the sales of the Enkolpion
go to the St. Anne's Restoration Fund.