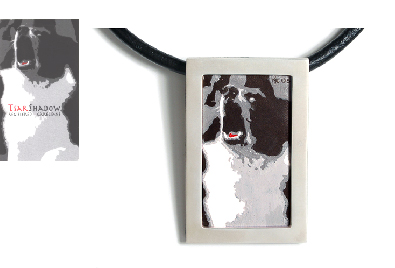 Eenokki Roaring (The Rage) pendant.

This pendant is a custom design for Dawne Deeley, owner of TsarShadow, Registered Carelians,
on Victoria Island, BC. Deeley is the only Canadian breeder of (Finnish) Karelian Bear Dogs, or
Karelian Karhu Koirat. Bear dogs are known for their tenacity, and ability to track and 'stand' a bear in the wild.

Deeley's Bear Dogs are championship dogs, having acquired over 40 awards combined, world wide. As a major advocate of the breed, Deely required a signature neckpiece.

Eenokki (Fin./Can.MBIS Ch. TsarShadow's The Berserker), pictured in the pendant, is one of
her favourite dogs.

The image itself, which also appears on the TsarShadow business card, is hand-painted on black leather.

For more on Finnish Bear Dogs see www.tsarshadow.com

Sterling silver, leather, acrylic, stainless steel.