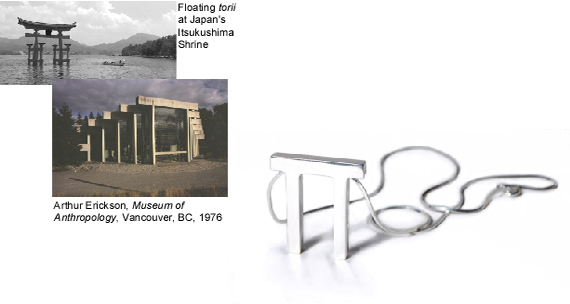 The Weight of Heaven pendant. In many ways, Arthur Erickson's Museum of
Anthropology in Vancouver, BC, is an inheritor and assimilator of three great
cross-cultural influences: the Acropolis in Athens, the Japanese Shinto Shrine,
and the Native Haida Village.

Out of poured concrete and glass, Erickson created a soaring monument to civilization.
Often described as an inherently post-and-beam style architect, he used as his leitmotif,
on a massive totemic scale, the post-and-beam house frames of a Haida village, to
fittingly encase the Museum's collection of totem poles and Northwest Coast artifacts.

From the Acropolis, which he had visited as a young man, he derived the topographical
siting for his monument. Like the Acropolis, the Museum is located at a high elevation,
on the cliffs of Point Grey, overlooking Vancouver's English Bay; water being an
essential boundary for totem poles.

Erickson also felt that a Museum of Native Art must reconcile sacred space with public
passage. The repetitive rhythm of his massive posts and beams echo the role of the
torii, which, itself a post-and-beam motif, and often laid out in repeated pattern,
symbolizes the gateway between the sacred and profane worlds.

The title for the pendant is derived from Mr. Erickson's article of the same name, published in Canadian Architect March 1964.

Included in the Architecture as Ornament exhibition, June 2007.


Solid sterling silver.